NEW BOOK!

Communist China is an ideological, military, economic, technical, commercial, intelligence, and diplomatic rival of the U.S. and the West. China has a growing exploitative presence in the developing world. While these threats are known, the Chinese Communist Party (CCP) working with big business or - CCP Inc's. - involvement with transnational crime and money laundering is not. Former CIA intelligence officer and Treasury Special Agent John Cassara is the first to examine CCP Inc. from a comprehensive law enforcement perspective. China - Specified Unlawful Activities: CCP Inc., Transnational Crime and Money Laundering is important, timely, and eye opening.

The book examines 11 categories of CCP Inc. criminal activities, as well as exposing money laundering methodologies with "Chinese characteristics," CCP Inc. mercantilism and corrosive capital, and various pernicious enablers. John puts it all together and explains the convergence. The totality of CCP Inc.'s transnational criminality and money laundering is truly staggering. And it impacts all of us. Combining facts, straight-forward explanations, case studies, as well as the author's personal experiences, views and commentary, this book is valuable to the public and private sectors, the financial intelligence community, law enforcement, policy makers, as well as students and concerned citizens.

Note: Hard and softcover as well as e-version will be available via Amazon in mid-February 2023.

​About John Cassara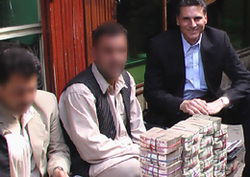 John Cassara retired after a 26 year career in the federal government intelligence and law enforcement communities. He is considered an expert in anti-money laundering and terrorist financing, with particular expertise in the areas of money laundering in the Middle East and the growing threat of alternative remittance systems and forms of trade-based money laundering and value transfer. He invented the concept of international "Trade Transparency Units," an innovative countermeasure to entrenched forms of trade-based money laundering and terrorist financing. A large part of his career was spent overseas. He is one of the very few to have been both a clandestine operations officer in the U.S. intelligence community and a Special Agent for the Department of Treasury.

His last position was as a Special Agent detailee to the Department of Treasury's Office of Terrorism Finance and Financial Intelligence
(TFI). His parent Treasury agency was the Financial Crimes Enforcement Network (FinCEN), the U.S. Financial Intelligence Unit (FIU). He worked at FinCEN from 1996-2002. From 2002-2004, Mr. Cassara was detailed to the U.S. Department of State's Bureau of International Narcotics and Law Enforcement Affairs (INL) Anti-Money Laundering Section to help coordinate U.S. interagency international anti-terrorist finance training and technical assistance efforts

During his law enforcement investigative career, Mr. Cassara conducted a large number of money laundering, fraud, intellectual property
rights, smuggling, and diversion of weapons and high technology investigations in Africa, the Middle East, and Europe for a variety of federal agencies. While assigned to the Office of the Customs Attaché in Rome, Italy, he directed the first truly international money laundering task force, called Operation Primo Passo, ("First Step"). The innovative operation combated Italian/American organized crime by examining the movement of money between the two countries and represented an early use of financial intelligence to proactively initiate investigations. During his customs career, he also served two years as an undercover arms dealer. He began his career with Treasury as a Special Agent assigned to the Washington Field Office of the U.S. Secret Service.

Since his retirement, he has lectured in the United States and around the world on a variety transnational crime issues. He has consulted for government and industry. He has testified six times before Congressional committees on matters dealing with money laundering, threat finance, and transnational crime. Mr. Cassara is on the Board of Directors of Global Financial Integrity and the International Coalition Against Illicit Economies. Mr.. Cassara has authored or co-authored several articles and books, including Hide and Seek, Intelligence, Law Enforcement and the Stalled War on Terrorist Finance (2006 Potomac Books) and On the Trail of Terror Finance - What Intelligence and Law Enforcement Officers Need to Know (2010 Red Cell IG). In 2013, his first novel was released - Demons of Gadara. Trade-Based Money Laundering: The Next Frontier in International Money Laundering (Wiley) was released followed in 2016 with Trade-Based Money Laundering: The Next Frontier in International Law Enforcement. Money Laundering and Illicit Financial Flows: Following the Money and Value Trails was released in May, 2020.
---